Culture in its most basic form is people's way of life. This way of life of the people is often made manifest in their mode of dressing, food, festivals, and ceremonies, among others.
With 54 countries excluding dependent regions, as recognized by the United Nations in 2020, Africa is a continent that is richly endowed with cultural heritage and a variety of traditions.
As these people vary according to their respective countries, so do their traditions. It is this uniqueness that birthed the variety of festivals and carnivals that have added incredible colours to the continent today. These festivals/carnivals range from music, arts, dance, coronation, and other cultural displays.
Longman Dictionary of Contemporary English defines a festival as an occasion when there are performances of many films, plays, pieces of music etc, usually happening in the same place every year.
Ever since these festivals began to make more meaning and appeal to Africans and her visitors, tourism has begun to experience utmost welcome from people, especially from other continents, in Africa. Some of these people go as far as booking beforehand just to ensure they do not miss out on the great fun.
Apart from tourism appeal, these festivals also act as unifying factors for Africans themselves, as many of them travel home in their numbers, from their countries of residence, to witness the events. A great number of Africans are usually nostalgic for these festivals and travelling home to witness them is often sacrosanct for many of them.
If you are still wondering where to pitch your tent for a summer holiday, you might wish to explore Africa beyond your regular knowledge of her. Biografrica has got a list of very captivating festivals and carnivals in Africa you would not want to miss out on in 2022.
1. Calabar carnival
The 2022 edition of Calabar carnival would be a robust farewell carnival…Akwa Ibom State government.
Just so you know, this year's edition of Calabar Carnival is one you should not dare to miss if you are a true lover of culture and entertainment.
The carnival is Synonymous with colours and it is reported to be Africa's biggest street party. It happens in the heart and capital of Cross Rivers state Nigeria; Calabar. In fact, Cross River state, Nigeria owes its presence on the World Tourism Map to the great Calabar Carnival. This carnival is said to draw millions of people within Africa and beyond who come to witness the captivating displays of African culture and heritage by means of music, dressing, drama, and other cultural creativities of talented persons.
The carnival started back in 2004 when the governor of Cross River, Nigeria, Donald Duke, decided it would be the perfect way to boost tourism and the local economy. Since then, the carnival has continued to grow and has gained an international rating of number four in the world and number one in West Africa.
This year's edition of the carnival has been scheduled for December 1 -December 31, 2022. The events are usually organised with a time-table as shown below:
1st – 10th December: The Millennium Week
12th – 17th December: Sports Week
19th – 24th December: The TINAPA Family Festival
25th – 31st December: Carnival Week
Calabar Carnival was held last in the year 2019 but has been on hold owing to the Covid-19 pandemic. To this end, the state government vowed to make the 2022 edition double what it used to be so as to pay for the past ones that were skipped.
The highlight of Calabar Carnival is the Street Parade that features the Battle of the Bands. There are also ceremonies, concerts, art shows, street parties, masque events, sporting events and non-stop parties.
Benefits of Calabar Carnival to Africa
For local and international artisans invited into the country, musicians, costume makers, and choreographers, Calabar Carnival should be a daily event. This goes to the huge economic benefits this carnival accrues to them and the country at large.
The benefits of this great carnival to the host country can never be over-emphasized as it ranges from job creation, income generation, infrastructural development, among others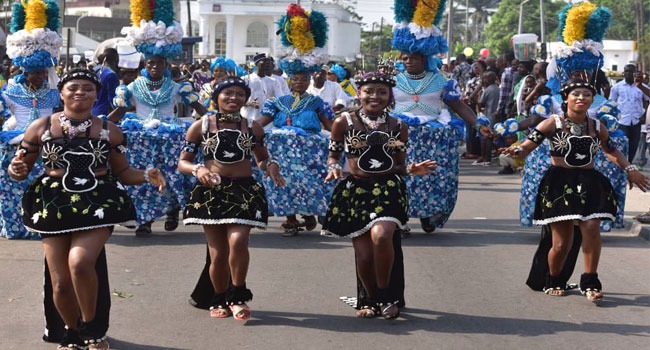 2. New Yam Festival
The New Yam Festival is an annual harvest festival commemorated throughout West Africa, especially in Nigeria and Ghana. in Nigeria for instance, it is commemorated annually by almost all the ethnic groups, with Eastern Nigeria standing tall in the list.
'Iri-Ji' as it is called in the Igbo language (Eastern Nigerian language), is more a cultural event than a social one. It is usually commemorated to mark the end of the farming season and to herald the harvest.
Celebrated mostly in the month of August and September, the new yam festival often welcomes Igbos/Africans in the diaspora to their ancestral homes to partake in the festival.
The festival is reported to be commemorated by millions of people annually. It is usually a very colourful one in Igboland as it witnesses cultural displays like dance, masquerade parade, eating of yams prepared in different forms (roasted, boiled or pounded), and many foreigners find it fun traveling to witness the festival in Africa.
One peculiar feature of this festival is its decentralised nature. The day Anambra state, Nigeria chooses to celebrate theirs may vary from that of Enugu, Abia, Imo and other states in Nigeria. In fact, majority of Nigerians who are not able to travel home to commemorate this great event, now do it abroad. New Yam Festivals are now celebrated in the United States of America, Germany, Ireland and in so many other countries by African Migrants.
People are usually seen in various states and venues of the festival in their large numbers, beaming with joy and adorned in cultural attires, with some paintings on their bodies as they watch the displays by dancers and masquerades.
In Igboland the yam used for the main ritual at the festival is usually roasted and served with palm oil (mmanụ nri). Iwa ji also shares some similarities with the Asian Mid-Autumn Festival, as both are based on the cycles of the moon and are essentially community harvest festivals…Wikipedia
3. National Arts Festival
National Arts Festival-NAF, formerly called Grahamstown Arts Festival, is said to be Africa's largest cultural event. The great city of Grahamstown, South Africa plays host to it annually. If you are a fan of African arts and culture, this festival is definitely a not-to-miss event for you as it is said to be one of the largest performing arts festivals in the world by visitor numbers. Over 600 performing arts shows are said to take place during the festival, ranging from opera, drama, jazz and folk music to even stand-up comedy shows!
The festival runs for 11 days, from the last week of June to the first week of July every year. It takes place in the small university city of Makhanda (previously known as Grahamstown), in the Eastern Cape province of South Africa.
The NAF has continued to grow since its inception. In 1974 there were 64 events on the main programme. (Events refer to productions, exhibitions, workshops, lectures, tours and so forth. A drama or dance production is counted as a single event irrespective of how many times it may be performed.)
As at 2010, the National Arts Festival comprises more than 350 events with over 1,200 performances… Wikipedia
BENEFITS OF NATIONAL ARTS FESTIVAL TO AFRICA
Some of the programmes under NAF focus on strengthening the entrepreneurial skills of the arts community by bringing together arts entrepreneurs to share skills and knowledge with a new generation of arts managers.
The Art Factory teaches local marginalised and vulnerable youth performance skills such as juggling and acrobatics and combines this with a strategic focus on building the life skills and confidence of the youth. The Art Factory functions as a year-round project in Makhanda.
The Arts Encounter Project distributes a number of tickets to indigent individuals to enable them to enjoy productions from the NAF's main and fringe programmes.…Wikipedia
There was also research conducted by the Rhodes University of Economics Department in 2016, on the impact of the National Arts Festival on the province's economy which estimated that the event contributed around R377million to the economy in that year alone.
The last time National Arts Festival was held was in 2020, courtesy of the Covid 19 pandemic which put a hold on it since then.
During the festival, Artists from across South Africa, as well as a number of international artists participate hugely.
4. Festival of the Dhow Countries
The Festival of the Dhow Countries is an annual event in East Africa. Now referred to one of the biggest in East Africa, the event is usually held in the first 2 weeks of July. The festival was established by the Zanzibar International Film Festival in 1997 to promote socio-cultural and economic growth through the development of the film industry and other related cultural endeavours in the region.
The event is marked by cultural dances, road shows, Taarab Performances, exhibitions, art and craft and the likes. It draws participants from many countries such as Mozambique, Kenya, Comoro, Germany, China and India. The event unfolds at various venues around the waterfront of Stone Town on Zanzibar Island, Tanzania. The final night of the event is set aside for the Zanzibar International Film Festival Awards and the airing of short films produced during the workshops.
While competition films are limited to productions with Dhow country connections, the festival programme includes films/videos from all over the world addressing themes which reflect concerns within the Dhow countries. Activities and events include music, theatre and dance performances, workshops and exhibitions. A large music programme also runs for the festival featuring artists from Tanzania alongside international musician. Many of these events are staged in Old Fort (Ngome Kongwe) and Forodhani Gardens and free to the public. There are also workshops and seminars for women and children, and Village Panoramas which reach about forty villages across the Zanzibar islands of Unguja and Pemba… Zanzibar tourism
Benefits of the festival of Dhow countries to Africa
The main objective of most festivals is to attract visitors who will spend money while patronizing its cultural values. By spending money, these visitors are boosting the government's revenue base, as well as the local economy.
Festival of the Dhow countries is such that has grown to gain global awareness and as such attracts visitors who spend money when purchasing tickets, food, fuel, beverages, souvenirs, and paying for parking, lodging, among others.
As these payments are made, the economy of the host country records some growths.
5. Cape Town International Jazz Festival, South Africa
The Longman Dictionary of Contemporary English defines Jazz as a type of music that has a strong beat and parts for performers to play alone.
Wikipedia says it is a music genre that originated in the African-American communities of New Orleans, Louisiana in the late 19th and early 20th centuries, with its roots in blues and ragtime.
In South Africa, Jazz is given a spectacular celebration in an event called the Cape Town International Jazz Festival. It is held annually in Cape Town, South Africa with Jazz legends from all over the world in attendance.
It is usually a two days event that take place at the city's International Convention Centre, either on the last weekend of March or the first weekend of April. The first festival which took place in 2000 allegedly recorded about 14,000 attendees and since then, the number of attendees had doubled annually for the festival.
The event consists of live performances from 40-plus international and African artists over 2 days across 5 stages.
Jazz legends who range from global acts like, Lauryn Hill, Miles Mosley, Dan Brubeck, Dave Koz, James Ingram, Dave Sanchez, Earth, Wind and Fire, Corinne Bailey Rae, and the Gipsy Kings; to South African favourites like the Ndlovu Youth Choir have thrilled guests at the event.
One peculiar feature of the Cape Town International Jazz Festival is the high records of ticket sales for the event. It is said that 90 per cent of the tickets are usually sold on arrival.
BENEFITS OF Cape Town International Jazz Festival TO AFRICA
The Cape Town International Jazz Festival is reportedly ranked as one of the top jazz festivals in the world, competing with Holland's North Sea Jazz Festival and Switzerland's Montreux Festival.
To this end, hotels in Cape Town usually await the festival with keen interest as it opens doors of massive patronage to them. South African economy thrives within this period as visitors take the time to tour some centres in the country and in essence patronise some of their products.
These festivals as listed by Biografrica are all fascinating and act as mirrors to the uniqueness of African culture. There is never a dull moment in Africa as one captivating event or the other is always there to cheer you up.
We can't wait to have you experience the great fun in Africa.